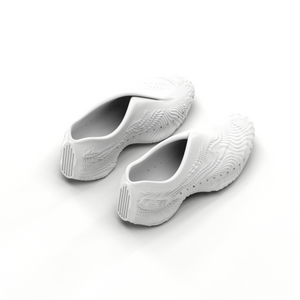 FUSED Eirean Low - 3D printed footwear
The FUSED Eirean Low will make you trip out with it's funky alien skin, and the elegant folded collar makes it extra easy to slip on!
The Eirean Low features an ergonomic inner shape, neutral arch and roomy toebox. They can be ordered in All White, All Black, or as a Mixed pair with each shoe a different color. The pattern on the upper flows into the sole, and is inspired by the infamous Alien movies.
The FUSED Eirean Low is 3D printed in one piece and made to order. The midsole is filled with shock-absorbing lattice structures. The ride of these shoes is smooth and firm.
Our shoe sizes run similar to Nike and Adidas, with a relatively loose fit. You can find our size conversion chart here or below.
FUSED shoes are made out of our TPE filament (thermoplastic elastomer) and can be fully recycled by us. If you send your old FUSED shoes back to us, you will receive a 20% discount on a new pair of FUSED shoes, and we will make new shoes out of your old shoes. See our Return 2 Recycle page for more info.
Shipping
Our products are sent to you with registered mail from Hong Kong, and should arrive within 2 to 4 weeks after ordering. We are not responsible for any import duties levied on your order by the destination country.

Warranty
FUSED footwear is made to order and somewhat experimental. We continuously improve our designs, so your shoes may differ slightly from our photos. We do not offer refunds. We do offer a 30 day warranty against major defects and fit problems. In case of any problems with your shoes, please contact us and we will do our best to help you out.